Yes, sawdust is a good addition to compost as it adds carbon and helps with moisture retention. Composting is a natural process of recycling organic materials, and turning them into rich and nutritious soil.
While numerous items can be added to a compost bin, it's important to understand the benefits and potential drawbacks of each.
Sawdust, a byproduct of woodworking and other activities, can be a valuable component of compost due to its high carbon content.
This helps to balance the nitrogen-rich materials in the compost pile, promoting the breakdown of organic matter and allowing beneficial microorganisms to thrive.
However, it's essential to use sawdust in moderation and ensure its source is not treated with chemicals or additives that may harm the composting process.
Why Is Sawdust Present In Gardening?
Gardening enthusiasts often encounter the presence of sawdust in their gardening activities. Whether you spot it in your compost piles or as a mulching material, the question arises: is sawdust beneficial for composting? To find the answer, let's dive into the common sources of sawdust in gardening and the challenges it presents for composting.
Common Sources Of Sawdust In Gardening
Sawdust finds its way into the world of gardening through various sources. Below are a few common sources where you might come across sawdust:
| Source | Description |
| --- | --- |
| Woodworking projects | Sawdust is a byproduct of woodworking activities such as carpentry or furniture making. |
| Tree trimming and removal | In the process of tree maintenance, pruning, or removing trees, sawdust can accumulate. |
| Lumber mills and sawmills | Industrial activities associated with lumber mills and sawmills generate substantial amounts of sawdust. |
These common sources often lead to the availability of sawdust in gardening practices. However, incorporating sawdust into your compost pile requires careful management due to the challenges it presents.
Challenges Of Managing Sawdust In Compost
The utilization of sawdust in composting comes with its own set of challenges. Let's take a closer look at these challenges:
Carbon to nitrogen (C: N) ratio: Sawdust is high in carbon content, meaning it has a high C: N ratio. This can affect the overall balance of nutrients in the compost pile, potentially slowing down the decomposition process. To counteract this, it is essential to provide sufficient nitrogen-rich materials alongside sawdust.
Compaction and aeration: Due to its fine texture, sawdust tends to compact, reducing airflow within the compost pile. This can impede the breakdown of organic matter and lead to anaerobic conditions, resulting in unpleasant odors. Regular turning and the addition of bulky materials can alleviate compaction and improve aeration.
Wood preservatives and chemicals: When utilizing sawdust from treated wood or wood products, it is crucial to consider the potential presence of wood preservatives or chemicals. These substances can be harmful to plants and the environment, so it is best to avoid using sawdust from such sources.
Benefits Of Using Sawdust In Composting
From improving aeration to balancing nitrogen-rich materials, sawdust can help create nutrient-rich compost for your plants. Let's explore the benefits of using sawdust in composting.
Improves Aeration In The Compost Pile
One of the key factors for successful composting is proper aeration. Sawdust plays a crucial role in this aspect. Its fine texture and ability to create air pockets improve the airflow within the compost pile.
As the sawdust breaks down, it creates channels for oxygen to reach the microorganisms responsible for decomposition.
Adds Carbon To Balance Nitrogen-rich Materials
Composting requires a balance of carbon-rich and nitrogen-rich materials. While kitchen scraps and fresh yard waste contribute nitrogen, sawdust helps provide the necessary carbon.
The high carbon content in sawdust helps balance out the nitrogen-rich materials, preventing the compost from becoming too compact or smelly.
By adding sawdust, you ensure that your compost pile maintains the ideal carbon-to-nitrogen ratio for optimal decomposition.
Absorbs Excess Moisture In The Compost
Excessive moisture can be a problem in composting, leading to unpleasant odors and slowing down the decomposition process. Sawdust comes in handy by absorbing excess moisture, helping to maintain the optimal moisture level in the compost.
The absorbent properties of sawdust ensure that excessive water is retained, preventing the compost pile from becoming waterlogged and creating a breeding ground for anaerobic bacteria.
When adding sawdust to your compost pile, keep in mind several considerations. It's best to use untreated sawdust to avoid any chemicals or additives that might harm the composting process or your plants.
Additionally, avoid using excessive amounts of sawdust as it can create a thick layer that limits oxygen flow. Instead, add thin layers of sawdust interspersed with other compost materials.
Drawbacks Of Adding Sawdust To Composting
While sawdust can be used in composting processes, there are a few drawbacks to consider before incorporating it into your compost pile. These drawbacks can impact the decomposition process, require additional nitrogen sources, and pose risks of an imbalanced carbon-to-nitrogen (C:N) ratio in the compost.
Slows Down The Decomposition Process
One of the primary drawbacks of adding sawdust to composting is that it can slow down the decomposition process. Sawdust is considered a high-carbon material, meaning it has a high ratio of carbon to nitrogen.
This high carbon content can create an environment that is more conducive to fungal activity rather than the bacteria that drive the decomposition process. Fungi require more time to break down carbon-rich materials, hence slowing down the overall composting process.
Requires Additional Nitrogen Sources
To compensate for the high carbon content of sawdust, additional nitrogen sources need to be introduced to the compost pile. Nitrogen-rich materials, such as grass clippings, kitchen scraps, or green plant waste, can be added to help balance the carbon-to-nitrogen ratio.
Without an adequate nitrogen source, the compost may become nitrogen-deficient, which can slow down decomposition and result in a pile that remains unprocessed for an extended period.
Risks Of Imbalanced C:n Ratio In The Compost
The carbon-to-nitrogen ratio is a crucial factor in successful composting. When too much sawdust is added to the compost pile, the C:N ratio can become imbalanced.
Excessive carbon content from sawdust can lead to the production of humic acids, which can inhibit the growth of beneficial microorganisms necessary for the decomposition process.
An imbalanced C:N ratio can result in a slow or stalled composting process, as well as nutrient deficiencies in the final compost product.
How To Choose The Right Type Of Sawdust (Dos And Don'ts)
Not all sawdust is created equal when it comes to composting. It's important to choose the right type of sawdust to ensure optimal results. Here are some factors to consider:
Untreated wood: Make sure the sawdust comes from untreated wood. Treated wood may contain chemicals that can harm your compost and plants.
Softwood vs. hardwood: Softwood sawdust, such as pine or cedar, decomposes more slowly than hardwood sawdust, such as oak or maple. If you're looking for a faster decomposition rate, opt for hardwood sawdust.
Fine texture: Sawdust with a finer texture breaks down faster than coarse sawdust. This allows for quicker decomposition and incorporation into the compost pile.
Pre-treating Sawdust To Optimize Decomposition
Pre-treating sawdust before adding it to your compost pile can help speed up the decomposition process and prevent any potential issues. Here are some tips for pre-treating sawdust:
Moisture content: Sawdust should be slightly moist before being added to the compost pile. If it's too dry, it may take longer to decompose. If it's too wet, it can create a compacted mass that slows down decomposition.
Mixing with nitrogen-rich materials: To enhance decomposition, mix the sawdust with nitrogen-rich materials such as grass clippings or kitchen scraps. This will help create the ideal balance of carbon and nitrogen for effective composting.
Turning the pile: Regularly turn the compost pile to ensure proper airflow. This helps in maintaining an aerobic environment, which promotes decomposition and prevents odor or sliminess.
Avoiding Treated Or Contaminated Sawdust
Using treated or contaminated sawdust can have negative impacts on your compost and the environment. It's crucial to avoid such sawdust. Here's what you need to do:
Avoid chemically treated sawdust: Sawdust from treated wood, such as pressure-treated or painted wood, should never be used in composting. These chemicals can leach into the compost and harm beneficial organisms.
Avoid contaminated sawdust: Sawdust from woodworking shops or construction sites may contain contaminants like nails, screws, or other materials that can damage your compost pile or cause injury. Ensure that the source of sawdust is clean and free from foreign objects.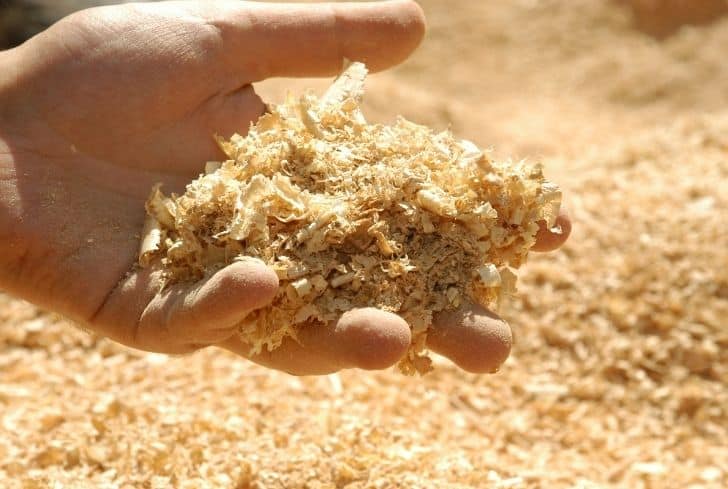 Credit: www.conserve-energy-future.com
How To Accelerate Decomposition of Sawdust? 
Accelerating the decomposition process is essential for turning sawdust into rich compost. Here are some effective techniques:
Layering: By alternately layering sawdust with green, nitrogen-rich materials such as kitchen scraps and grass clippings, you create a balanced carbon-to-nitrogen ratio, which promotes decomposition.
Turning: Regularly turning the compost pile helps to aerate it and distribute heat, facilitating the breakdown of organic matter, including sawdust.
Moisture control: Maintaining the right moisture level is crucial. Sawdust tends to be dry, so add water as needed to keep the compost heap moist (but not overly wet), as moisture encourages microbial activity.
Adding activators: Introducing organic materials rich in nitrogen, such as manure or garden greens, can give the decomposition process a boost.
Utilizing Sawdust Compost In Specific Gardening Applications
Once the sawdust has fully decomposed, the resulting compost can be utilized in various gardening applications to enhance soil health and plant growth. Here are a few examples:
Garden beds: Mix the sawdust compost into garden beds to improve the soil's structure, increase moisture retention, and provide nutrients for plant growth.
Potting mix: Blend the compost with other organic materials to create a nutrient-rich potting mix for container gardening.
Mulching: Apply a layer of sawdust compost around plants to suppress weeds, conserve moisture, and add organic matter to the soil as it breaks down.
Managing Sawdust To Reduce Potential Risks
While sawdust can be a valuable addition to compost, it's essential to manage it properly to minimize potential risks. Here are a few steps to follow:
Source selection: Ensure the sawdust comes from untreated wood to avoid introducing chemicals into your compost pile.
Carbon balance: Sawdust is high in carbon, so it's necessary to balance it with nitrogen-rich materials to maintain a healthy composting environment.
Particle size: Finely shredded sawdust will decompose more quickly than larger pieces, so consider grinding or shredding the sawdust before adding it to the compost pile.
Avoid excessive amounts: While sawdust can be beneficial in moderation, using too much can create compaction and hinder airflow in the compost pile. Aim for a balanced mix of materials.
Frequently Asked Questions 
Is Sawdust Good For Compost?
Yes, sawdust is a great addition to compost. However, it should be used in moderation due to its high carbon content. It's best to mix it with nitrogen-rich materials like food scraps and yard trimmings to ensure proper decomposition and balance in the compost pile.
Are there any types of sawdust that should be avoided in compost?
Answer: It's crucial to avoid using sawdust from pressure-treated or painted wood in your compost pile. These types of wood may contain chemicals that can be harmful to your plants and the environment. Always use sawdust from untreated wood.
How should I incorporate sawdust into my compost pile?
Answer: Sawdust should be used sparingly in your compost pile, mixed with other organic materials such as kitchen scraps, leaves, and grass clippings. Be sure to layer it thinly and mix it well to avoid compaction and ensure proper aeration.
Is it true that sawdust can slow down the composting process?
Answer: There is a common misconception that using too much sawdust in your compost can slow down decomposition because it's high in carbon and can temporarily tie up nitrogen. However, when used in moderation and properly mixed with nitrogen-rich materials, sawdust can contribute to the composting process and help create a balanced pile.
Can I use sawdust from any type of wood?
Answer: While you can use sawdust from various types of untreated wood, some woods, like cedar and redwood, can take longer to decompose due to their natural resistance to decay. Mixing them with other sawdust or materials in your compost can help.
Are there any other benefits to using sawdust in compost?
Answer: Sawdust can improve aeration and moisture retention in your compost pile, which can be especially helpful if your pile tends to get too wet or compacted. It also adds valuable carbon to the mix, which is essential for balanced composting.
Can sawdust be used in vermicomposting (composting with worms)?
Answer: Sawdust can be used in vermicomposting, but it's best to pre-compost it separately for a few months to allow it to break down partially. Worms prefer materials that are already starting to decompose, as fresh sawdust may be too coarse and slow to break down for their liking.
How long does it take for sawdust to decompose in compost?
Answer: The decomposition time for sawdust can vary depending on factors like particle size, the type of wood, and the overall composition of your compost pile. It may take several months to a year or more for sawdust to fully break down into rich, dark compost.
Conclusion
Ultimately, sawdust can be a valuable addition to your compost pile. Its high carbon content helps to balance out the nitrogen-rich organic matter, promoting decomposition and creating nutrient-rich humus. However, it is important to use sawdust from untreated wood sources and incorporate it in moderation to avoid overwhelming the compost with carbon.
With careful consideration, you can harness the benefits of sawdust and create a thriving compost system for your garden.
I am a graduate of Bangladesh Agricultural University, where I delved into various agricultural disciplines, equipping me with a profound understanding of agriculture. Beyond academics, I have hands-on experience in gardening and crop cultivation. My passion is to embrace sustainable farming and horticulture. With a BSc in Agriculture, I am dedicated to promoting environmentally conscious and efficient agrarian practices.
Bachelor of Science (BSc) in Agriculture (Hons.)
Master of Science. (Sustainable Agriculture & Food Security ) (MS)
Bangladesh Agricultural University