Yes, you can utilize a broadcast spreader to evenly distribute compost. This tool is convenient for covering extensive areas uniformly.
Alternatively, a drop spreader allows you to deposit compost directly onto the grass without scattering it widely.
There are also broadcast spreaders equipped with technology designed for even distribution of topdressing on lawns.
It allows for efficient coverage and helps to improve soil fertility and structure. Composting is a sustainable practice that recycles organic waste into nutrient-rich humus, benefiting plants and the environment.
By using a broadcast spreader, you can easily apply compost to your garden beds, lawns, or fields without the need for manual spreading.
This method ensures that the compost is evenly distributed, promoting healthy plant growth and minimizing waste.
With a broadcast spreader, you can maximize the benefits of composting and enhance the health and productivity of your landscape.
Benefits Of Using A Broadcast Spreader For Compost Distribution
A broadcast spreader is a highly efficient tool that can greatly simplify the process of spreading compost over a large area. With its ability to evenly distribute compost, cover a wide range of terrain, and save time and effort compared to manual spreading, using a broadcast spreader provides several key benefits for gardeners and landscapers.
Evenly Distribute Compost Over A Large Area
One of the primary advantages of using a broadcast spreader for compost distribution is its ability to evenly distribute the compost across a large area.
The spreader's mechanism ensures that the compost is evenly dispersed as it is propelled over the area, resulting in a uniform coverage.
This even distribution allows for consistent nutrient availability throughout the soil, promoting healthy plant growth and minimizing the chance of nutrient deficiencies in some areas while others receive an excess.
Cover A Wide Range Of Terrain Efficiently
The broadcast spreader is a versatile tool that can cover a wide range of terrains efficiently. Whether you are working on a small garden or a sprawling lawn, the spreader's design allows for seamless navigation.
It can effortlessly distribute compost across both flat surfaces and sloping areas, ensuring that every part of the terrain receives an adequate amount of compost.
By utilizing a broadcast spreader, gardeners can easily extend their composting efforts to various parts of their property, resulting in uniform soil enrichment.
Save Time And Effort Compared To Manual Spreading
Manual spreading of compost can be a laborious and time-consuming task. However, by using a broadcast spreader, gardeners can save significant time and physical effort. The spreader's efficient mechanism allows for quick and even distribution of compost, eliminating the need for labor-intensive hand spreading.
With a push of a button or the turn of a crank, gardeners can cover a large area in a fraction of the time it would take to manually spread compost. This time-saving benefit enables gardeners to allocate their time and energy to other essential gardening tasks.
Achieve Optimal Nutrient Distribution For Plants
The precise distribution of compost achieved by a broadcast spreader ensures optimal nutrient distribution for plants. With even coverage, plant roots in different areas of the soil receive a consistent supply of crucial nutrients, enhancing overall plant health and growth.
The broadcast spreader's ability to distribute compost also helps to prevent nutrient imbalances and reduces the risk of over-fertilization in certain spots.
This efficient nutrient distribution is key to promoting robust and healthy plant growth, leading to vibrant gardens and landscapes.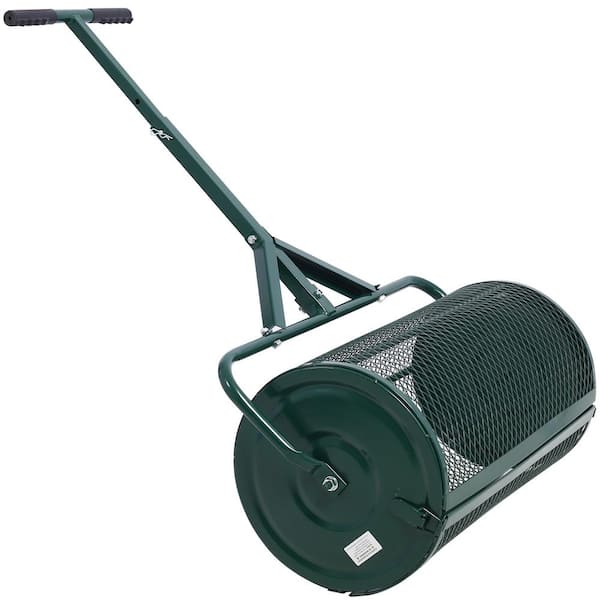 Factors To Consider Before Using A Broadcast Spreader For Compost
Before spreading compost using a broadcast spreader, there are several important factors you should consider. By taking these factors into account, you can ensure that your compost application is effective and efficient, leading to healthier plants and improved soil quality.
Type And Consistency Of Compost
The first factor to consider is the type and consistency of the compost you are using. Compost can vary greatly in texture, moisture content, and particle size. Some compost may be fine and crumbly, while others may be coarse and chunky. It is important to choose compost that is well-decomposed and free from large clumps or debris.
When using a broadcast spreader for compost, it is generally recommended to use compost that is relatively dry, as this will allow for better flow and distribution.
Wet or overly moist compost may clump together in the spreader and clog the distribution mechanism, causing uneven application.
Adjusting Spreader Settings For Compost Application
Another important consideration is adjusting the spreader settings to ensure proper compost application. The settings will depend on the type of spreader you are using, as well as the desired coverage and rate of application. Typically, broadcast spreaders have settings that allow you to adjust the size of the opening or the flow rate of the compost.
For compost applications, a wider opening or higher flow rate is generally recommended to achieve a more even spread. However, it is essential to avoid over-applying the compost, as this can lead to nutrient imbalances and potential plant damage.
It is a good idea to test the spreader settings on a small area before fully applying the compost to determine the optimal rate for your specific spreader and compost combination.
Environmental Considerations Such As Wind And Moisture
When spreading compost with a broadcast spreader, it is crucial to consider environmental factors such as wind and moisture. Wind can carry the compost particles away from the intended target area, resulting in uneven coverage and potential waste.
It is advisable to choose a calm day with minimal wind to ensure maximum control and accuracy in compost distribution.
Moisture levels are also important, as excessively wet or dry conditions can affect the performance of the spreader. Wet compost may clump together and clog the spreader, while dry compost may not flow smoothly. It is generally best to spread compost when it is slightly moist but not overly wet or dry.
Compost Quality And Its Impact On Spreader Efficiency
The quality of the compost you are using can significantly impact the efficiency of the spreader. Low-quality compost with large clumps, excessive moisture, or significant debris can cause clogging and inconsistent application. Therefore, it is important to ensure that your compost is well-processed and of high quality before using a broadcast spreader.
An effective way to determine speeding compost quality is to check for a uniform texture, absence of large clumps, and a pleasant earthy smell. If your compost does not meet these criteria, it may be beneficial to screen or sift it before application to the spreader.
By considering these factors – the type and consistency of compost, adjusting spreader settings, environmental conditions, and compost quality – you can make the most of your broadcast spreader when applying compost. This will result in a more efficient and effective compost application, promoting healthier plants and improving soil fertility.
Step-by-step Guide To Spreading Compost With A Broadcast Spreader
Spreading compost with a broadcast spreader is an effective way to evenly distribute nutrients and organic matter across a large area. The process involves a few simple steps to ensure proper application and maximize the benefits of compost. In this step-by-step guide, we will walk you through the process of using a broadcast spreader to spread compost.
Prepare The Area And Gather the Necessary Tools
Before you begin spreading compost, it's important to prepare the area by removing any weeds, debris, or large rocks. This will help ensure an even application and prevent any obstacles that could affect the spreading process. Additionally, gather all the necessary tools you will need, such as the broadcast spreader, compost, and safety equipment.
Load The Compost Into The Spreader
Once the area is prepared, it's time to load the compost into the broadcast spreader. Make sure the spreader is on a level surface and open the hopper.
Carefully pour the compost into the hopper, being mindful not to overfill it. Use a shovel or scoop to break up any clumps and ensure the compost flows smoothly through the spreader.
Set The Spreader To The Appropriate Settings
Setting the spreader correctly is crucial for achieving an even distribution of compost. Refer to the manufacturer's instructions or the product's packaging for guidance on the appropriate settings.
These settings may vary depending on the type of spreader and the compost consistency. Adjust the spreader accordingly to ensure the proper amount of compost is being dispersed.
Walk In A Methodical Pattern While Operating The Spreader
As you begin spreading the compost, it's important to maintain a methodical pattern to ensure comprehensive coverage. Start at one corner of the area and walk in straight lines, slightly overlapping each pass to avoid any missed spots. This pattern will help ensure an even application while minimizing overlap and wastage of compost.
Maintain A Consistent Pace And Avoid Over-application
While operating the spreader, it's essential to maintain a consistent walking pace. This will ensure a consistent flow of compost and prevent any uneven distribution.
Be mindful not to rush or slow down, as it may result in over-application or patchy areas. Walk at a steady pace to achieve an optimal spread of compost.
Remember to regularly check the hopper to ensure it is still dispensing compost properly. If it becomes clogged or empty, pause and reload before continuing to spread compost.
Tips And Best Practices For Effective Compost Spreading With A Broadcast Spreader
Learn effective compost spreading with a broadcast spreader for a healthier garden.
Calibrating The Spreader For Accurate Distribution
One of the most important aspects of using a broadcast spreader to spread compost effectively is to ensure that it is properly calibrated. Calibration determines the rate at which the compost is distributed, allowing for accurate coverage and preventing waste. To calibrate the spreader, follow these steps:
Start by measuring a known area of your garden or lawn that you want to apply compost to. For example, measure a square yard.
Fill the spreader with a known weight of compost. Keep a note of the weight.
Spread the compost over the measured area, making sure to cover it evenly.
Check the remaining compost in the spreader. Weigh it and calculate the total area covered.
Using these measurements, determine the amount of compost needed to cover a specific area. Adjust the spreader's settings accordingly.
Choosing The Right Time And Weather Conditions For Spreading Compost
The timing and weather conditions play a crucial role in the success of compost spreading. Here are a few tips:
| Aspect | Recommendation |
| --- | --- |
| Season | Spring or fall when soil isn't too hot or frozen. |
| Wind Conditions | Avoid windy days to prevent compost from being blown off. |
| Weather Forecast | Check for heavy rain within 24 hours to prevent washout. |
| Timing | Early morning or late afternoon to avoid rapid drying. |
Regular Maintenance And Cleaning Of The Spreader
Maintaining and cleaning your broadcast spreader regularly will ensure its optimal performance and longevity. Here are some essential maintenance practices:
After each use, clean the spreader to remove any residual compost that may clog the mechanism. Use a brush or hose to remove any debris.
Inspect the spreader for any damaged parts and replace them if necessary to avoid uneven distribution.
Store the spreader in a clean and dry place to prevent rusting or other damage.
Regularly lubricate moving parts of the spreader to keep them in good working condition.
The Importance Of Monitoring Compost Thickness And Adjusting As Needed
When spreading compost with a broadcast spreader, it is crucial to monitor the thickness of the compost layer and make adjustments as needed. Here are some tips to ensure the proper thickness:
Spread an initial thin layer and then observe the coverage. If it appears too thin, increase the spreading rate or make additional passes to achieve the desired thickness.
If the compost layer seems too thick, decrease the spreading rate or make fewer passes to avoid smothering the plants and hindering water and air infiltration.
Regularly monitor the compost layer thickness as you work to ensure consistency across the entire area.
Pay extra attention to slopes and uneven areas, as compost may gather or move due to gravity or water runoff. Adjust the spreading rate accordingly to maintain uniform thickness.
What Materials You Can Spread With A Broadcast Spreader?
When it comes to spreading compost, a broadcast spreader is an excellent tool. It allows you to distribute compost evenly, covering a large area in a short amount of time. But did you know that you can use a broadcast spreader for more than just compost?
This versatile tool can be used to spread a variety of materials that can enhance your garden, lawn, or even help with winter maintenance. Let's explore some of the different materials that can be easily spread with a broadcast spreader.
Fertilizers And Soil Amendments For Enhanced Plant Growth
If you're looking to give your plants an extra boost of nutrients, a broadcast spreader can help you with that. Fertilizers and soil amendments can be spread evenly over your garden or lawn, ensuring that each plant receives the necessary nutrients for healthy growth.
Whether you prefer organic or synthetic fertilizers, a broadcast spreader can make the application process quick and efficient.
Seed Spreading For Efficient Lawn Or Meadow Establishment
Seeding a new lawn or meadow can be a time-consuming task, but with a broadcast spreader, it becomes much easier. By using a spreader, you can evenly distribute the seeds, ensuring that they are well-spread and not clumped together. This results in a more uniform and efficient establishment of your lawn or meadow, saving you time and effort.
Ice Melt And Salt Distribution For Winter Maintenance
Winter maintenance is crucial, especially when it comes to removing ice and snow from driveways, walkways, and other outdoor surfaces. A broadcast spreader can be your ally in this process by allowing you to distribute ice melt and salt evenly.
This ensures that the substances are spread in a controlled manner, maximizing their effectiveness and preventing damage to your plants and surroundings.
As you can see, a broadcast spreader is not limited to spreading compost. It can be a valuable tool for distributing a variety of materials, from fertilizers and soil amendments to seeds and ice melt.
By using this versatile tool, you can save time, effort, and ensure a more efficient and effective application of these materials. So, next time you think about spreading any of these substances, consider using a broadcast spreader for a hassle-free experience.
Frequently Asked Questions On Can You Spread Compost With A Broadcast Spreader
Q: What's the advantage of using a broadcast spreader for composting?
A: The main advantage is even distribution. A broadcast spreader helps spread compost uniformly, which is essential for consistent soil improvement. It also minimizes waste by avoiding clumps or uneven coverage.
Q: Is there a particular setting or adjustment needed for the broadcast spreader when spreading compost?
A: Yes, adjust the spreader settings according to the compost's texture and your desired coverage. It's usually best to start with a lower setting and increase it if necessary. This prevents over-application.
Q: Can a broadcast spreader handle compost with a variety of moisture levels?
A: Broadcast spreaders work best with composts of moderate moisture levels. Overly wet compost may clog the spreader, while very dry compost might not flow smoothly. Adjusting the moisture content can help ensure a smooth application.
Q: Are there any weather considerations when spreading compost with a broadcast spreader?
A: Yes, it's essential to avoid windy conditions when using a broadcast spreader. Wind can affect the even distribution of compost. Also, check the weather forecast for heavy rain. Excessive rain can wash away the compost before it integrates into the soil.
Q: What is the best time of day to use a broadcast spreader for composting?
A: Early morning or late afternoon is typically recommended. During these times, the sun is not at its peak, which minimizes the risk of the compost drying out too quickly in the midday sun.
Q: Can a broadcast spreader be used for topdressing lawns with compost?
A: Yes, many broadcast spreaders are suitable for evenly spreading compost as topdressing on lawns. This helps improve soil quality and ensures consistent coverage for your lawn's health and appearance.
Conclusion
Broadcast spreaders are an effective tool for spreading compost. They distribute the compost evenly, covering larger areas quickly and efficiently. By using a broadcast spreader, you can save time and effort while ensuring that your compost is distributed evenly across your garden or lawn.
Whether you are a beginner or an experienced gardener, a broadcast spreader can be a valuable asset in your composting journey. So go ahead, give it a try, and see the difference it makes in your garden. Happy composting!
I am a graduate of Bangladesh Agricultural University, where I delved into various agricultural disciplines, equipping me with a profound understanding of agriculture. Beyond academics, I have hands-on experience in gardening and crop cultivation. My passion is to embrace sustainable farming and horticulture. With a BSc in Agriculture, I am dedicated to promoting environmentally conscious and efficient agrarian practices.
Bachelor of Science (BSc) in Agriculture (Hons.)
Master of Science. (Sustainable Agriculture & Food Security ) (MS)
Bangladesh Agricultural University