Paper napkins are a common item used in many households, restaurants, and events. They are convenient and practical for wiping hands and cleaning up spills. However, their single-use nature raises questions about their environmental impact and recyclability. So, are paper napkins recyclable?
The good news is that paper napkins can indeed be recycled but not in every case. They are typically made from virgin or recycled paper fibers, which means they can be recycled along with other paper products.
Recycling paper napkins helps to conserve natural resources, reduce waste going to landfills, and minimize the need for new paper production.
Paper napkins are a common household item that we frequently use and discard without much thought. However, have you ever considered the environmental impact of these seemingly harmless disposable products? 
Deforestation And Its Consequences
One of the major concerns surrounding paper napkins is the deforestation they contribute to. The production of paper napkins necessitates the harvesting of trees, resulting in the displacement of various animal species and the destruction of natural habitats.
It is estimated that a staggering number of trees are cut down each year to meet the global demand for paper products.
This rampant deforestation has severe implications:
Loss of Biodiversity: Deforestation disrupts ecosystems and leads to the extinction of numerous plant and animal species that rely on forests for survival.
Increased Greenhouse Gas Emissions: Trees play a crucial role in absorbing carbon dioxide from the atmosphere, acting as a natural carbon sink. Their removal contributes to the release of greenhouse gases and exacerbates climate change.
Soil Erosion: Tree roots hold soil in place, preventing erosion. Deforestation contributes to soil degradation, leading to decreased fertility and increased risk of landslides.
Water And Energy Consumption During Production
The production of paper napkins also has a significant impact on both water and energy resources. The manufacturing process involves multiple stages that require substantial amounts of water and energy, resulting in further strain on our environment:
Water Consumption: The pulp used to make paper napkins requires vast quantities of water for processing and bleaching. This water, often contaminated with chemicals, is then released into water bodies, polluting ecosystems.
Energy Consumption: The production of paper napkins involves energy-intensive processes such as pulping, drying, and transportation. The reliance on fossil fuels for these processes contributes to the depletion of non-renewable resources and increases greenhouse gas emissions.
Are Napkins Compostable?
Yes, paper napkins can be composted, as long as they haven't come into contact with harmful substances like chemicals or toxic materials. Composting paper napkins used for cleaning water or food messes is a sustainable way to reduce waste and enrich your garden soil.
However, it's essential to avoid including napkins that have absorbed harmful substances, as they can contaminate the compost harm plant growth, disrupt composting processes, and lead to unpleasant odors.
So, while paper napkins are compostable, it's crucial to be selective and responsible when deciding which ones to include in your compost bin.
Can Paper Napkins Be Recycled?
When it comes to sustainable living, recycling is a key aspect. We all know the importance of recycling paper products like newspapers, magazines, and cardboard, but what about paper napkins? Can they be recycled?
Paper napkins are made from virgin or recycled paper pulp and may contain additional materials like dyes, adhesives, or chemicals for softness and strength.
The composition of paper napkins can vary depending on the brand or type, but most are made from bleached or unbleached paper pulp.
The fibers in paper napkins are shorter and less strong compared to other paper products like cardboard or printer paper, which makes them more suitable for absorbency but less ideal for the recycling process.
Is it Challenging To Recycle Paper Napkins?
Recycling paper napkins poses several challenges due to their composition and usage. Since paper napkins are often used for wiping away food and beverage residue, they can become contaminated with oils, greases, or other organic substances that can hinder the recycling process.
Additionally, the fibers in paper napkins are shorter and have already been processed multiple times during their manufacturing process, which weakens their structure. This makes it difficult to separate and process the fibers during recycling.
Moreover, paper napkins may also contain other non-recyclable materials like adhesives or dyes, further complicating the recycling process.
These materials can interfere with the quality of the recycled paper, potentially reducing its value and usefulness in the production of new paper products.
While it's technically possible to recycle paper napkins, their recyclability can vary depending on your local recycling facilities and their specific guidelines.
Some recycling facilities accept paper napkins for recycling, while others categorize them as contaminants due to the challenges mentioned earlier.
To ensure your paper napkins have a higher chance of being recycled, it's crucial to follow your local recycling guidelines.
Make sure to wipe off any food residue as much as possible before disposing of the napkins in the recycling bin. 
However, if your local recycling facility does not accept paper napkins, it's best to dispose of them in the regular trash.
How To Properly Dispose Of Paper Napkins
When it comes to reducing waste and adopting more sustainable practices, one area that often gets overlooked is the proper disposal of paper napkins.
Many people are unsure whether paper napkins are recyclable or if they can be composted. To help you make environmentally conscious choices, here are some guidelines for recycling paper napkins and composting them effectively:
Guidelines For Recycling Paper Napkins
If you're wondering whether you can recycle paper napkins, the answer is yes, but with a few considerations. While paper napkins can be recycled, there are some important guidelines to follow:
Check for contamination: Before recycling, ensure that the napkins are free from any food residues or other contaminants. Contamination can hinder the recycling process and render the napkins unrecyclable.
Separate from compostable waste: It's important to keep paper napkins separate from compostable waste, as they cannot be composted once they have been through the recycling process. Keep them in a separate recycling bin or bag to avoid confusion.
Follow local recycling guidelines: Recycling policies might vary depending on your location, so it's important to familiarize yourself with your local recycling guidelines. Check if the recycling center in your area accepts paper napkins.
Composting Paper Napkins Effectively
If you prefer composting paper napkins instead of recycling, here are a few steps to ensure effective composting:
Use compostable napkins: Look for napkins that are specifically labeled as compostable or made from compostable materials. These napkins will break down more easily in the composting process.
Remove contaminants: Just like with recycling, make sure the napkins are free from any food residues or other contaminants before adding them to the compost bin. Contaminants can slow down the composting process or introduce unwanted substances into the finished compost.
Tear napkins into smaller pieces: To facilitate faster decomposition, tear the napkins into smaller pieces before composting. This will increase their surface area and make it easier for microorganisms to break them down.
Mix with other compostable materials: As with any composting process, it's important to have a well-balanced mix of organic materials. Combine your paper napkins with other green and brown compostable materials such as vegetable scraps, leaves, and yard trimmings for optimal decomposition.
Regularly turn and maintain the compost: To ensure proper aeration and decomposition, regularly turn the compost pile and maintain the ideal moisture level. This will help break down the napkins and other materials more efficiently.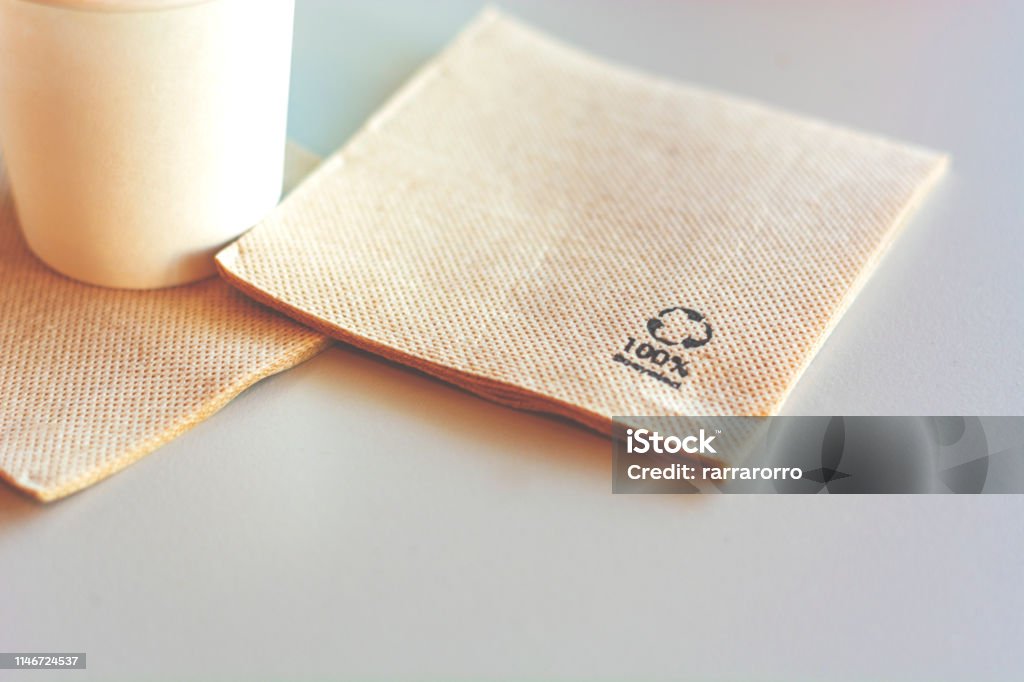 Credit: www.istockphoto.com
Frequently Asked Questions For Are Paper Napkins Recyclable
Are Paper Napkins Recyclable?
Yes, paper napkins are recyclable. However, it's important to check if they are contaminated with food or grease stains, as this can affect the recycling process.
If they are clean, you can recycle them with other paper products. Remember to remove any non-paper elements like plastic before recycling.
Can all paper napkins be composted?
Not all paper napkins are suitable for composting. Whether a paper napkin can be composted depends on what it has been used for. Napkins that have been used to clean up food or water mess are generally safe for composting because they are considered organic waste.
However, it's crucial to avoid composting napkins that have come into contact with chemicals, toxic substances, or hazardous materials. These can introduce harmful elements into your compost, potentially harming plant growth and disrupting the composting process.
Can I compost colored or printed paper napkins?
Yes, you can compost colored or printed paper napkins, but it's essential to ensure that the dyes and inks used in these napkins are non-toxic and biodegradable. Most modern paper napkins, including colored and printed ones, use eco-friendly inks and dyes that are safe for composting.
However, it's a good practice to double-check the product's labeling or manufacturer information to confirm their environmental friendliness.
What's the benefit of composting paper napkins?
Composting paper napkins offers several benefits. It helps reduce waste by diverting paper waste from landfills, contributing to environmental sustainability.
Additionally, when you compost paper napkins used for cleaning up food or water mess, you enrich your garden soil with valuable organic matter and nutrients, improving soil quality and supporting healthier plant growth.
Can I compost paper towels in the same way as paper napkins?
Yes, you can similarly compost paper towels to paper napkins, following the same guidelines. Just like paper napkins, the key consideration is to avoid including heavily contaminated paper towels in your compost. By practicing responsible composting, you can reduce waste and benefit your garden.
Can I compost paper napkins in my backyard compost pile?
Yes, paper napkins can be composted in your backyard compost pile or bin. It's an eco-friendly way to reduce waste at home. To ensure successful decomposition, maintain the right balance of green (nitrogen-rich) and brown (carbon-rich) materials in your compost pile.
How long does it take for paper napkins to compost?
The time it takes for paper napkins to compost can vary. In ideal conditions, with proper compost management, it usually ranges from a few weeks to a few months.
Factors like temperature, moisture, and the size of the napkins can influence the decomposition rate. Regularly turning and aerating your compost pile can help speed up the process.
Can I use compost made from paper napkins in my vegetable garden?
Compost made from paper napkins used for cleaning food or water mess is safe for use in your vegetable garden. This compost enriches the soil, adds essential nutrients, and promotes healthier plant growth naturally and sustainably.
However, always ensure that the paper napkins you compost have not been heavily contaminated with toxic substances, as this can impact the safety and quality of your garden produce.
Conclusion
To summarize, paper napkins are generally not recyclable due to their high usage of fibers and the contamination caused by food waste. While some paper napkins may be labeled as recyclable, it is important to check with local recycling facilities as their policies may vary.
To reduce environmental impact, it is recommended to opt for cloth napkins or reusable alternatives whenever possible. 
Reference:
https://publish.illinois.edu/bin-it-recycling/recycling-myths/
https://www.businessinsider.com/dont-recycle-napkins-paper-towels-2016-2
https://tiny-waste.com/paper-napkins.html
I am a graduate of Bangladesh Agricultural University, where I delved into various agricultural disciplines, equipping me with a profound understanding of agriculture. Beyond academics, I have hands-on experience in gardening and crop cultivation. My passion is to embrace sustainable farming and horticulture. With a BSc in Agriculture, I am dedicated to promoting environmentally conscious and efficient agrarian practices.
Bachelor of Science (BSc) in Agriculture (Hons.)
Master of Science. (Sustainable Agriculture & Food Security ) (MS)
Bangladesh Agricultural University